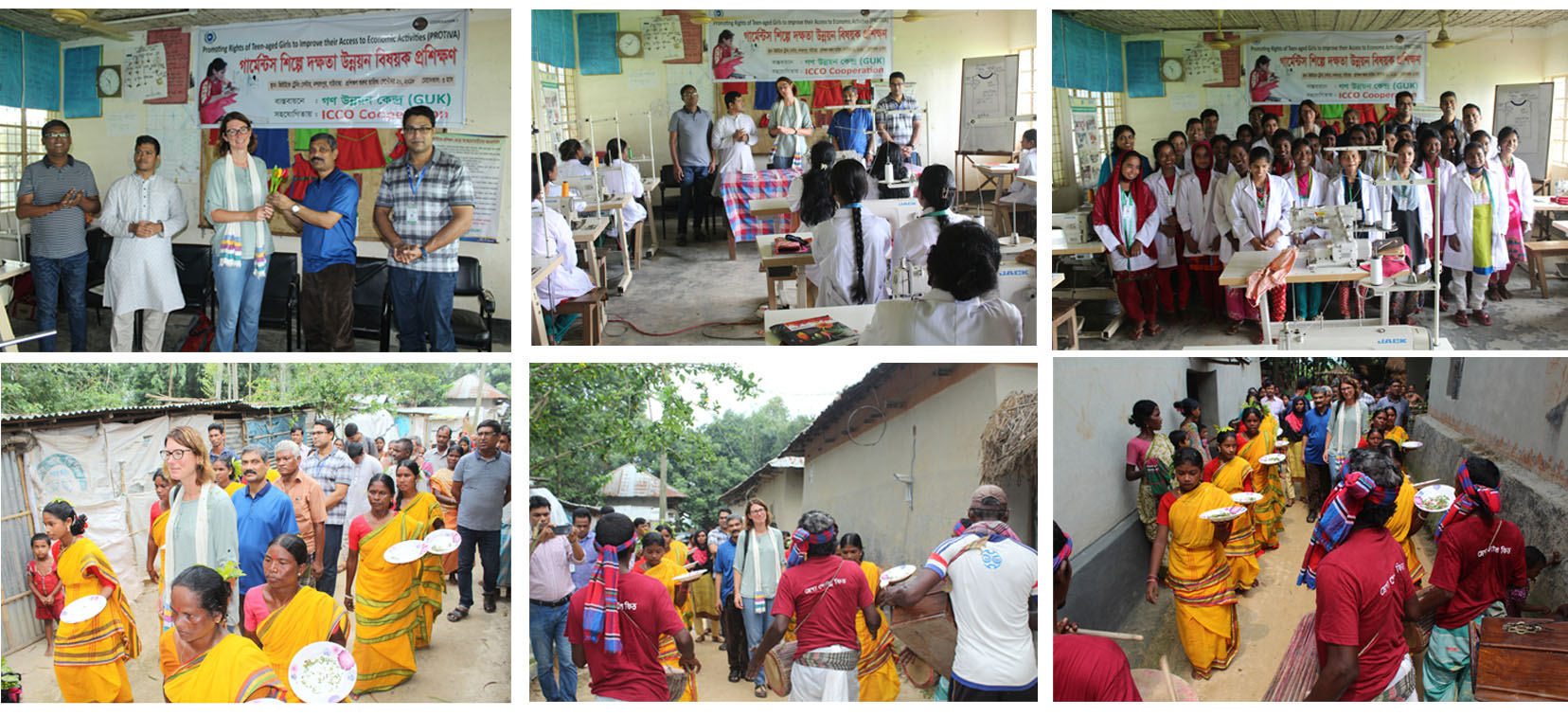 Ms. Petri Hofland from Kerk in Actie, the Netherlands and Mr. Shahab Uddin & Mr. Moniruzzaman Mukul from ICCO Cooperation visited GUK's skill training and different activities in ethnic minority community in Gobindaganj upazila of Gaibandha district on 28 September, 2018.
Community kitchen: A place for sharing for Rohingya women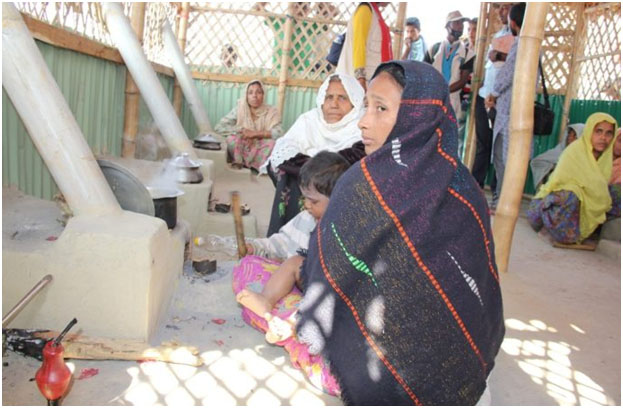 Rohingya women cooking at one of the community kitchens at the Jamtoli refugee camp at Ukhiya, Cox's Bazar, on Monday, February 19, 2018 Dhaka Tribune
Six community kitchens were set up by Gana Unnayan Kendra (GUK) with the financial assistance of international NGO Christian Aid at the Jamtoli Rohingya refugee camp
The community kitchen, initiated on a pilot basis in Jamtoli Rohingya refugee camp in Cox's Bazar's Ukhiya two months ago to keep the dense makeshift huts out of fire hazards, is becoming popular amongst Rohingya women as a common place for sharing with each other.
The Dhaka Tribune found such community kitchens — a common cooking point for at least 25 Rohingya families — only at the Jamtoli camp out of 12 camps of the two upazilas in Cox's Bazar.
The space provides cylinder gas ovens to the Rohingya women, there are also nature-friendly locally made ovens for the time when the cylinders run out of gas.
Six community kitchens were set up by Gana Unnayan Kendra (GUK) with the financial assistance of international NGO Christian Aid.
A field level monitor from GUK visits the community kitchens every day to monitor the needs of the Rohingya women, said officials of the organization.
GUK Community Mobilizer of Jamtoli camp Md Forkan said: "The Rohingya women now do not cook in an open or congested space that they did earlier. It reduces risk of sudden fire hazard in the camp and environmental degradation caused by deforestation."
The Rohingya women who are now using the community kitchen hailed the initiative.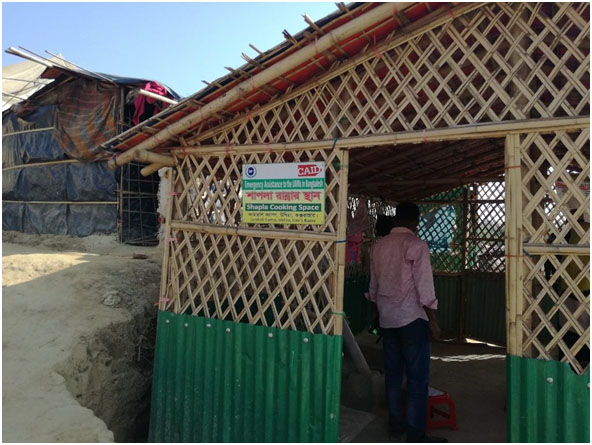 One of the community kitchens at the Jamtoli Rohingya refugee camp in Ukhiya, Cox's Bazar, Monday, February 19, 2018 | Dhaka Tribune
During a visit to two community kitchens named "Joba Rannar Sthan" and "Shapla Rannar Sthan," the Dhaka Tribune found that the Rohingya women were chatting with each other while cooking.
Mamtaz Khatun, 60, a Rohingya woman, said: "Earlier we had to go to the forest to collect firewood as no fuel was available. It would take two-three hours every day."
"Locals got angry when we cut trees but we had no choice. We had to do that for three months. Many days we could not even cook because we had no fuel," she added.
Another Rohingya woman, Asma Khatun of Mong E Daung village under Buthidaung township in Rakhine state, who lost her son and brother during the crackdown of the Myanmar Army last August, was upset all the time and did not talk much after coming to Bangladesh with 12 other family members. But she has recovered from the trauma thanks to the community kitchen, said her neighbour Moriam Begum.
"When we cook here, we also share our emotions and needs. Then we help each other as much as we can. This is like a sharing hub for us," said Mamtaz, mother of four.
Humaira Akter, field level monitor of GUK, said: "This kitchen facility has become a place for Rohingya women to share their stories and promote social harmony and psychosocial well-being."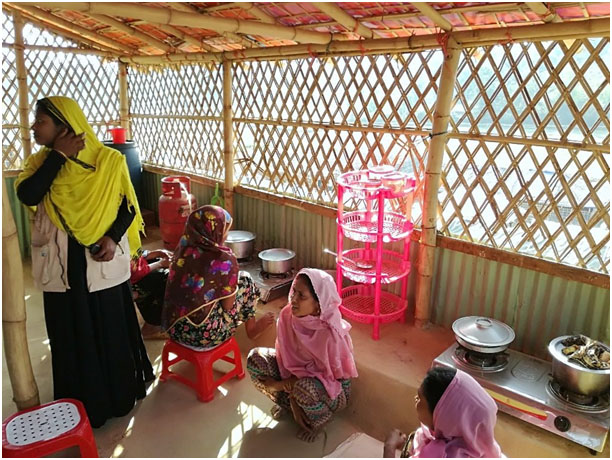 Rohingya women talk amongst themselves while cooking at one of the community kitchens at the Jamtoli refugee camp in Ukhiya, Cox's Bazar on Monday, February 19, 2018 | Dhaka Tribune
"We are happy having the cooking space. Those who come to cook here are from different parts of Burma [now known as Myanmar]. We exchange knowledge and ideas, including recipes," said Tahera Begum, another Rohingya woman.
GUK's Health Promotion Officer Esmat Jahan said: "The Rohingya women cannot raise their voices and express feeling at home in most of the cases, but they do that here."
The Jamtoli camp's site management authorities are considering setting up 200 community kitchens for 11,471 families of the camp.
Md Monir Uddin, zone coordinator of Jamtoli camp, said: "We have launched the facility to solve cooking problems in Rohingya communities. The camp lacks cooking fuel and space for which the dwellers are not having good food, giving rise to health hazard and domestic violence.
"We are providing spices, water and fuel (gas, charcoal, or diesel) to the kitchen. Different authorities have visited our common cooking spaces and planned to install such facilities in their camps," he said.
"The kitchens empower Rohingya women and girls, who are often housebound due to cultural and religious norms. They have found a place to gather, share and speak up," said Monir, who is also a zone coordinator of Christian Aid.
================================================
GUK Received an Award from Honorable Prime Minister Sheikh Hasina
It is our great pleasure to let you know that Gana Unnayan Kendra (GUK) has received a prestigious Award-2016 of Bangladesh government for contributing lots in the field of disability mainstreaming through it's different initiatives. On behalf of GUK, Shamima Mahmuda Yasmin, Member Secretary of Executive Committee received the award from honorable Prime Minister Sheikh Hasina on 3rd December. We think that we achieved this honor as a result of enormous support from our valuable donors, partners, government officials, people's representatives, journalists, other stakeholders and persons with disabilities with whom we work. We express our heartfelt gratitude to all of you and also seeking your cordial support in future so that we can do more for the development of persons with disabilities.

গণ উন্নয়ন কেন্দ্র (GUK) – এর পুরষ্কার অর্জন
গণ উন্নয়ন কেন্দ্র (GUK) প্রতিবন্ধী ব্যক্তিদের জীবনমান উন্নয়নে বিশেষ অবদানের স্বীকৃতিস্বরুপ বাংলাদেশ সরকারের সম্মানজনক পুরষ্কার-২০১৬ অর্জন করেছে। ০৩ ডিসেম্বর, ২০১৬ তারিখে ঢাকাস্থ ওসমানী স্মৃতি মিলনায়তনে আয়োজিত ২৫তম আন্তর্জাতিক ও ১৮তম জাতীয় প্রতিবন্ধী দিবস উপলক্ষে আয়োজিত বর্ণাঢ্য অনুষ্ঠানের মাধ্যমে মাননীয় প্রধানমন্ত্রী শেখ হাসিনা সংস্থাকে ক্রেস্ট ও সনদপত্র প্রদান করেন। সংস্থার পক্ষে পুরষ্কার গ্রহণ করেন নির্বাহী পরিষদের সম্মানীয় সদস্য সচির শামীমা মাহমুদা ইয়াসমিন। আমরা মনে করি দাতা সংস্থা, সহযোগী সংস্থা, সরকারি কর্মকর্তাবৃন্দ, জন প্রতিনিধি, সাংবাদিক এবং যাদের সংগে আমরা কাজ করি এমন প্রতিবন্ধী ব্যক্তিগণসহ সংশ্লিষ্ট সকলের আন্তরিক সহযোগিতার কারণেই আমাদের পক্ষে এই সম্মানজক পুরষ্কার অর্জন করা সম্ভব হয়েছে। তাই আমরা আমাদের সংগঠনের পক্ষ থেকে সংশ্লিষ্ট সকলকে আন্তরিক কৃতজ্ঞতা জ্ঞাপন করছি এবং সেইসাথে সকলের শুভকামনা ও সহযোগিতা কামনা করছি যেন আমরা ভবিষ্যতে প্রতিবন্ধী ব্যক্তিদের উন্নয়নে আরও বেশী অবদান রাখতে পারি।